If an operation is performed periodically in the application, such as periodically detecting the CPU value of the host, then the QTimer timer is needed.
When the window's control receives a Timeout signal, it stops this timer.
QTimer has the method start(milliseconds) and Stop().
Book: Create Desktop Apps with Python PyQt5
QTimer example
The program below has a start and stop button. If you click the start button, it starts a QTimer.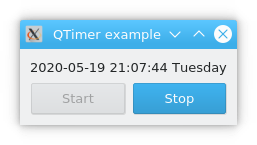 This will update the time every second.
import sys
from PyQt5.QtWidgets import QWidget,QPushButton,QApplication,QListWidget,QGridLayout,QLabel
from PyQt5.QtCore import QTimer,QDateTime

class WinForm(QWidget):
    def __init__(self,parent=None):
        super(WinForm, self).__init__(parent)
        self.setWindowTitle('QTimer example')

        self.listFile=QListWidget()
        self.label=QLabel('Label')
        self.startBtn=QPushButton('Start')
        self.endBtn=QPushButton('Stop')

        layout=QGridLayout()

        self.timer=QTimer()
        self.timer.timeout.connect(self.showTime)

        layout.addWidget(self.label,0,0,1,2)
        layout.addWidget(self.startBtn,1,0)
        layout.addWidget(self.endBtn,1,1)

        self.startBtn.clicked.connect(self.startTimer)
        self.endBtn.clicked.connect(self.endTimer)

        self.setLayout(layout)

    def showTime(self):
        time=QDateTime.currentDateTime()
        timeDisplay=time.toString('yyyy-MM-dd hh:mm:ss dddd')
        self.label.setText(timeDisplay)

    def startTimer(self):
        self.timer.start(1000)
        self.startBtn.setEnabled(False)
        self.endBtn.setEnabled(True)

    def endTimer(self):
        self.timer.stop()
        self.startBtn.setEnabled(True)
        self.endBtn.setEnabled(False)

if __name__ == '__main__':
    app=QApplication(sys.argv)
    form=WinForm()
    form.show()
    sys.exit(app.exec_())
First initialize a timer and connect the timer's timeout signal to the showTime() slot function
self.timer=QTimer(self)
self.timer.timeout.connect(self.showTime)
Use the connected slot function to display the current time, with the system's current time on the label
def showTime(self):
        #get system current time
        time=QDateTime.currentDateTime()

        #Setting the display format for system time
        timeDisplay=time.toString('yyyy-MM-dd hh:mm:ss dddd')

        #Show time on the label.
        self.label.setText(timeDisplay)
Click the Start button to start the timer and disable the button
#Set the interval and start the timer.
self.timer.start(1000)
#Set Start button unclickable, End button clickable
self.startBtn.setEnabled(False)
self.endBtn.setEnabled(True)
Click the end button to stop the timer and disable the button
#Stop the timer.
self.timer.stop()
#End button is not clickable, start button is clickable
self.startBtn.setEnabled(True)
self.endBtn.setEnabled(False)