PyQt window (Python PyQt5)
This article is about python using PyQt5.
Any desktop app (GUI) needs one or more windows, with PyQt you can create one in Python.
We will show you how to create a basic PyQt window and how to set it up.
Installation of PyQt5
First install PyQt (GUI toolkit) for Python using the pip package manager.
pip install pyqt5
Book: Create Desktop Apps with Python PyQt5
PyQt5 window
1: Create a simple window using PyQt5
import sys
from PyQt5 import QtWidgets

app = QtWidgets.QApplication(sys.argv)
windows = QtWidgets.QWidget()

windows.resize(500,500)
windows.move(100,100)
windows.show()
sys.exit(app.exec_())
This outputs: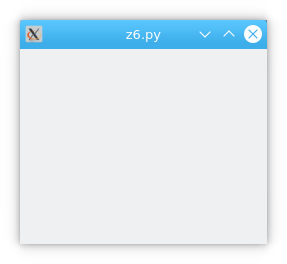 You can set its size (width,height) with:
windows.resize(500,500)
Put it anywhere on the screen:
windows.move(100,100)
2: Add titles and icons to created windows
import sys
from PyQt5 import QtWidgets,QtGui

app = QtWidgets.QApplication(sys.argv)
windows = QtWidgets.QWidget()
windows.resize(500,500)
windows.move(100,100)

windows.setWindowTitle('Title')
# set icon
windows.setWindowIcon(QtGui.QIcon('icon.png'))
windows.show()
sys.exit(app.exec_())
This results in an icon set for the window: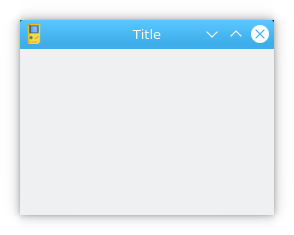 Set the window title with:
windows.setWindowTitle('Title')
Set the icon with:
windows.setWindowIcon(QtGui.QIcon('icon.png'))