The QTextEdit class is a multi-line text box control that displays multiple lines of text, with multiple vertical scrollbars when the text is outside the control's display range.
It has several functions:
setPlainText()
toPlainText()
setHtml()
toHtml()
clear()
It can contain one or more lines and each line is split using the newline character \n.
Book: Create Desktop Apps with Python PyQt5
QTextbox example
The example below shows a multiline textbox. You can click the buttons to change the text.
A textbox can be set with plain text .setPlainText() or with html setHTML().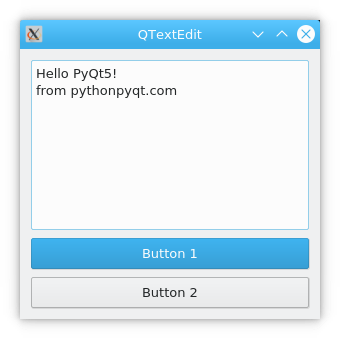 The code for this program is:
from PyQt5.QtWidgets import QApplication,QWidget,QTextEdit,QVBoxLayout,QPushButton
import sys

class TextEditDemo(QWidget):
        def __init__(self,parent=None):
                super().__init__(parent)

                self.setWindowTitle("QTextEdit")
                self.resize(300,270)

                self.textEdit = QTextEdit()
                self.btnPress1 = QPushButton("Button 1")
                self.btnPress2 = QPushButton("Button 2")

                layout = QVBoxLayout()
                layout.addWidget(self.textEdit)
                layout.addWidget(self.btnPress1)
                layout.addWidget(self.btnPress2)
                self.setLayout(layout)

                self.btnPress1.clicked.connect(self.btnPress1_Clicked)
                self.btnPress2.clicked.connect(self.btnPress2_Clicked)

        def btnPress1_Clicked(self):
                self.textEdit.setPlainText("Hello PyQt5!\nfrom pythonpyqt.com")

        def btnPress2_Clicked(self):
                self.textEdit.setHtml("<font color='red' size='6'><red>Hello PyQt5!\nHello</font>")

if __name__ == '__main__':
        app = QApplication(sys.argv)
        win = TextEditDemo()
        win.show()
        sys.exit(app.exec_())
Code analysis:
Import the QTextEdit from PyQt
from PyQt5.QtWidgets import QApplication,QWidget,QTextEdit,QVBoxLayout,QPushButton
Create the textbox:
self.textEdit = QTextEdit()
Add it to the window:
layout = QVBoxLayout()
layout.addWidget(self.textEdit)
...
self.setLayout(layout)
To set plain text in the QTextEdit:
self.textEdit.setPlainText("Hello PyQt5!\nfrom pythonpyqt.com")
To set html in the QTextEdit:
self.textEdit.setHtml("<font color='red' size='6'><red>Hello PyQt5!\nHello</font>")